StrandLeben: Go for holidays where others live –
live where others go for holidays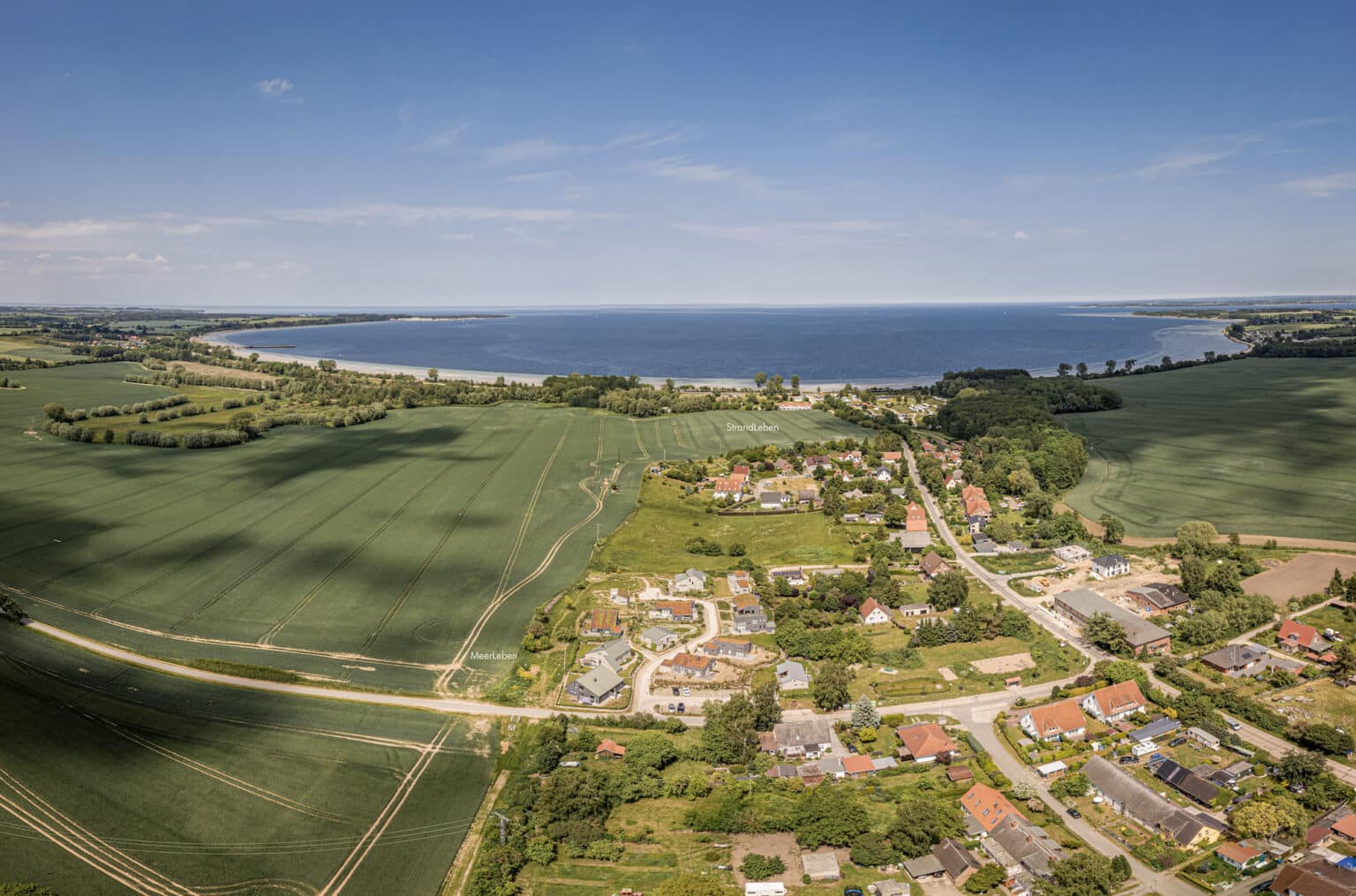 StrandLeben is being built in Niendorf in Klützer Winkel on the Baltic Sea, between the sea, fields, cherry trees and near the holiday village MeerLeben: 40 individual wooden houses – embedded in the landscape and in beautiful architecture. On 20 to 120 square metres, the houses offer space for short or longer stays within walking distance of the beach. Permanent living is also possible here, as ten of the 40 houses are designated as primary residences. Thus, StrandLeben will have a good mix of holiday guests and permanent residents. The heart of the village will be the Strandhaus, which will offer space for exchange between holidaymakers and the village community.
From an architectural point of view, Strandleben will be a further development of the MeerLeben holiday village a few hundred metres away: The basic idea of the ensemble is unity in diversity or diversity in unity. In order to grant this, the community will agree on a design guideline and different house types.
Strandleben will be developed in the form of a civil law partnership (GbR), which will lead the project through to building law. This is expected in the first half of 2023. Afterwards, the development community will be transformed into a planning and building community and finally into a "WEG" (community of homeowners according to German law).
Location: Baltic Sea // Hohenkirchen, (Niendorf, Klützer Winkel between Boltenhagen and Wismar)
Usable area of StrandLeben: Approx. 7 hectares in total
Size of the plots: Each approx. 900 sqm
Number of houses: 30 holiday homes (2 still available), 10 residential houses as primary residence (10 still available)
Purchase price: Between 300,000 and 680,000 € per house, depending on size, location and specifications
Details / Contact: www.strandleben-baugemeinschaft.de (Website in German)